You may be asking yourself, why should I use Simply Clean? Using the most powerful equipment is only half of the equation-Using that equipment correctly is the other half, and we do. The big national companies continually have problems with quality of work- We strive to do EVERY job right. I tell all of our customers-If you EVER have a problem-spot comes back, or something just doesn't look right, anything- We will absolutely take care of it, and make sure you are happy. We depend on your repeat business and customer referral's to stay in business !
If your thinking about renting a cleaning machine or doing it yourself- Our trucks are about 50 times more powerful than home units and 20 times more powerful than rental machines. Pricewise, after you rent a machine, buy the chemicals, figure in your gas and the time it takes, and the typically disappointing results, you'll find you've probably wasted your time and money. In some cases it can actually cost less to have us clean than renting !
Furniture moved free ! Okay to walk on immediately with clean shoes/bare or sock feet. Non Toxic-safe for pets or people !

At Simply Clean, customer satisfaction is our only goal. We strive to earn your business time and time again. Call today for a FREE estimate.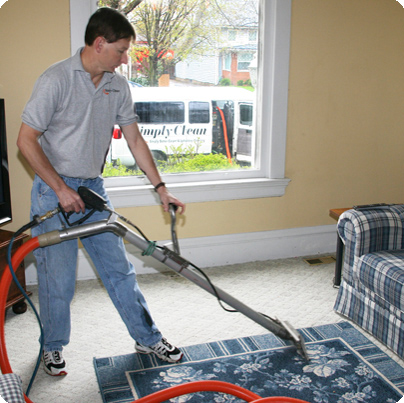 Click Here For FREE Estimates!